Win Ace is currently my favorite way to archive files. It's really easy to use, and fast. Winzip works essentially the same, but my preference is for Winace because of it's ability to open so many types of archive.
To use Win Ace I usually just find a group of files,
hold down Ctrl on the keyboard, and left-click on the files you want,
Right-click on one of the chosen files (I clicked on the DLlink.rtf file to begin.)
Then scroll down and click on the Add to. Of course the name of the archive is going to depend on the name of the first file you right-clicked on. You can change the name of it later if you like. If you hold the Ctrl key on your keyboard, then continue to left-click on more files, you can add to the number of files that you want in the archive before you click on Add to. I just picked 5 of the files in the lineup for this one.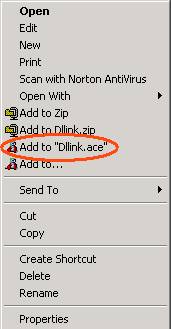 Then you'll have an icon like this, suitable for backup purposes to floppy disk or whatever media you choose.
To open an archive later, just right-click on the archive and left-click on the extract command. Then you will have a group copy of the original group of files in a new folder ready for you.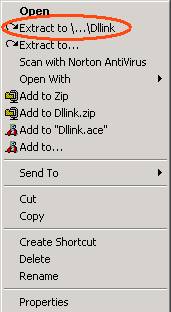 Article copyright 2001 Zalmegra Studios